Hitchcock House | The Deerfield Academy Campus Store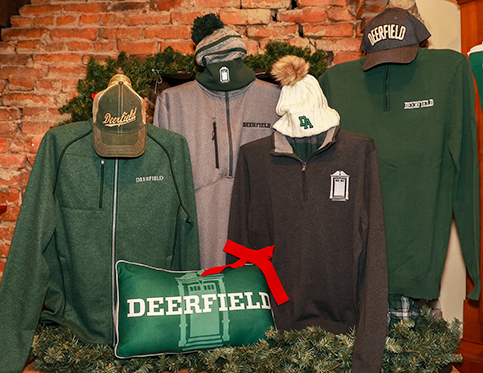 CAMPUS STORES THIS WEEK
Hitchcock House is open 8AM-4:30PM M-Th, 8AM-4PM Fri
The Athletic Store is open 2:30-4:30PM M-Th and Closed on Friday.
Both stores are closed for Thanksgiving break from 11/19-11/28
The Deerfield Academy®Online Store
There's snow in the forecast! We have term-end culminating projects and assessments this week, and just like that, we're done with Fall Term! Thanksgiving vacation is November 18-28 and Winter Term begins on November 29. The holiday season is upon us!
If you're in the neighborhood for a game or a visit, stop by Hitchcock House or the Athletic Store. We'd love to see you! Of course, if you can't make it to the valley to add to your collection of Green and White, have a look through the online store and let us send a little your way. There's so much new merchandise to see, with more arriving every day! We wish you all continued good health and hope to see you soon!
The Campus Stores will be closed 11/19-11/28. Orders placed online after 12:00 noon on 11/18 will be shipped out on Tuesday, 11/29.