Hitchcock House | The Deerfield Academy Campus Store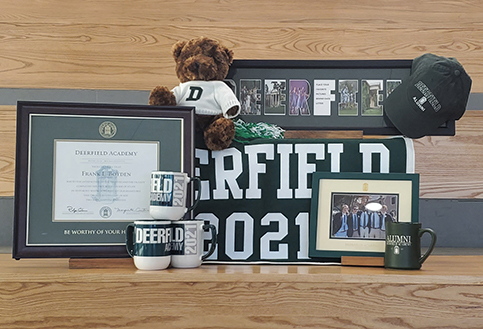 The Deerfield Academy®Online Store
The Great Class of 2021 will be stepping across the stage to pick up their diplomas on May 30! This is a tremendously exciting moment in a normal school year, However, in 2021, it's an exceptional milestone for all of us...students, parents, faculty and staff. We've nearly made it through the year, and the Pandemic! We wish our graduates happiness and success as they anticipate their futures and we can't wait to see them as future alumni!
Hitchcock House will not be open during graduation. Class ties, diploma frames, 2021 banners and other gifts should be ordered online for delivery to home or dorms by Friday 5/28. For the remainder of the year, the Campus Stores will continue to operate out of the Athletic Store in the lower level of the Athletic Complex where we offer counter-service and store pickups for students and employees only. We are also offering dorm delivery for our students. The store is unable to safely accommodate in-store browsing and shopping due to its size and the campus will continue to limit public access.
Since we can't welcome you to the valley right now to add to your collection of Green and White, have a look through the online store and let us send a little your way. We wish you all continued good health and hope to see you in the not too distant future!