Hitchcock House | The Deerfield Academy Campus Store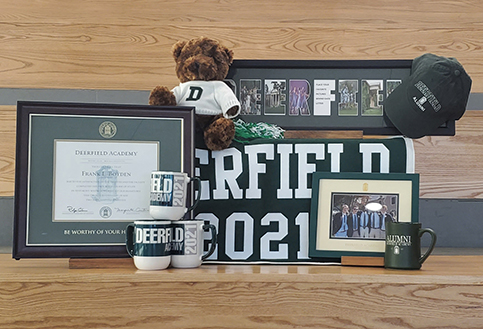 The Deerfield Academy®Online Store
The Campus Stores are closed while we pack, move and get Hitchcock House and the Athletic Store back to normal. Orders placed online in June will be delayed. We will return to normal service levels just as soon as possible. We appreciate your patience! Hitchcock House will reopen in August for in person shopping.
Congratulations to The Great Class of 2021! What an ending to an exceptional year! Students, families, alumni, faculty and staff have made it through the school year, and nearly through the pandemic. We wish our graduates happiness and success as they anticipate their next steps and we can't wait to see them as future alumni! And we're so excited to reconnect with returning families and meet our new ones, as we return to 'normal' in the next school year.
All Class of 2021 merchandise is now on sale. Prices are noted on each item. New and returning students, look for our email about pre-ordering for back to school!
Since we can't welcome you to the valley right now to add to your collection of Green and White, have a look through the online store and let us send a little your way. We wish you all continued good health and hope to see you in the not too distant future!